TIPS & IDEAS
At the beginning of the day you want to start the day relaxed and after a stressful day at work you want to relax and switch off in an atmospherically lit bathroom, but you need bright light to get ready. This requires a clever lighting concept that adapts to your needs at all times. A bathroom without a window requires particularly good planning. With smart LED lighting, you can illuminate your bathroom flexibly and ensure ideal lighting conditions. And they can even influence your mood with color changes. Lights on, everyday life off - and on top of that, thanks to economical LED technology, high electricity costs mean bathing too.
WHICH BATHROOM LIGHTING FOR WHICH PURPOSE?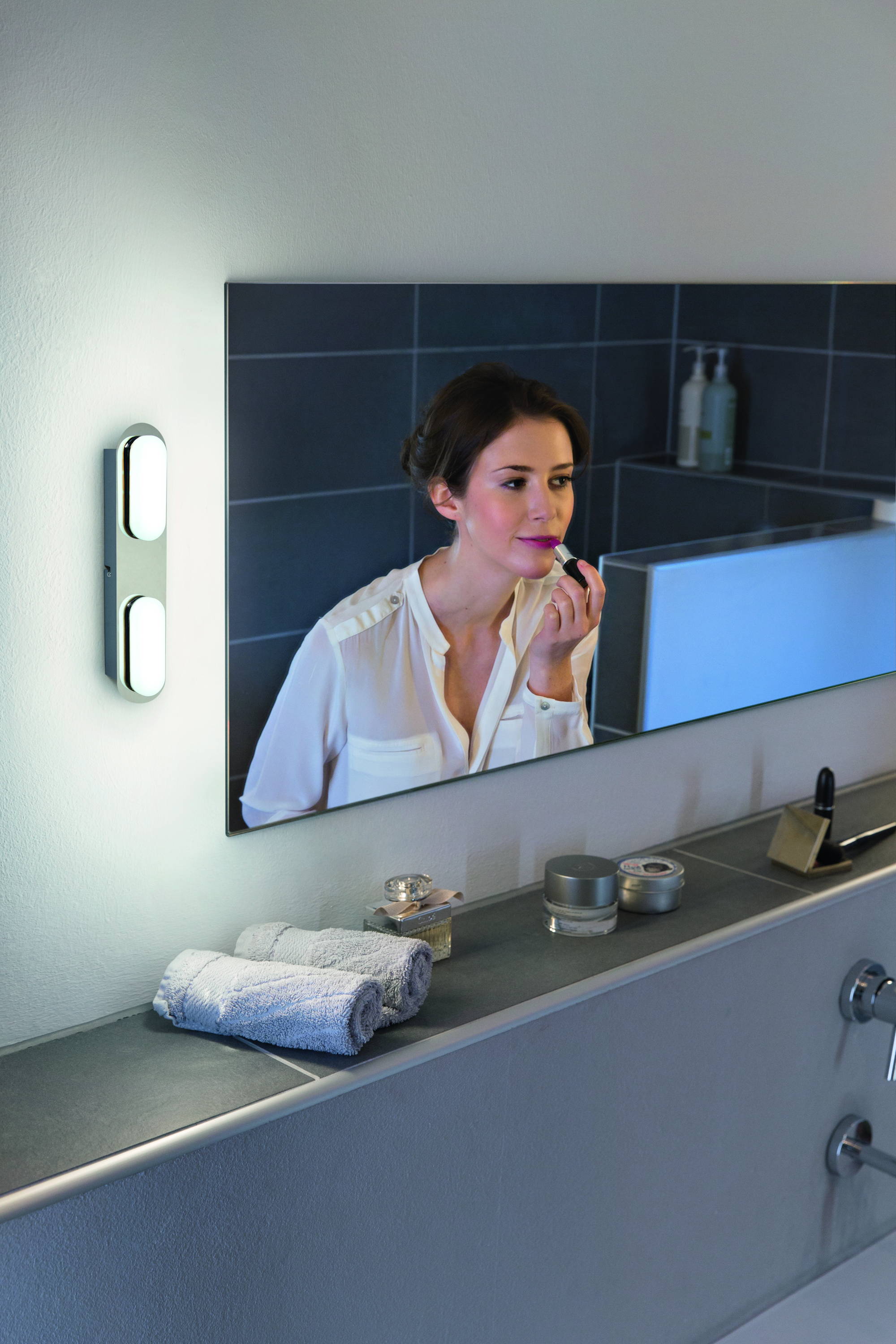 When planning your bathroom, pay attention to the different requirements for bathroom lighting:
- Basic lighting with ceiling lighting, recessed spotlights or wall lights that bathe the bathroom in bright light whenever required.
- Relax lighting: Indirect lighting that creates a cozy wellness atmosphere – e.g. B. with LED recessed spotlights in the bathtub or tile lighting.
- Make-up & styling: mirror lighting in combination with ceiling lighting. Or selective lighting above the mirror.
- Illuminate windowless bathrooms: An LED daylight panel as a ceiling light provides pleasant artificial lighting to replace daylight in windowless bathrooms.
LED SPOT LIGHTING
FOR YOUR OPTIMAL LIGHTING CONCEPT IN THE BATHROOM
The ideal basic lighting is provided by individually controllable spotlights for the bathroom. If you need bright light to wake up on a dark winter morning, switch on all spots at once. In the atmospheric wellness bath in semi-darkness you only activate one or two spotlights as indirect light. In this way, the shower, washbasin and toilet can be illuminated separately. Choose the best dimmable spotlights to customize the light: 8,000 lumens for morning brightness, 4,000 lumens for relaxing twilight. Rotatable and swiveling recessed spotlights under the ceiling with LEDs are perfect for the decorative illumination of certain elements, e.g. B. a wall niche or a picture. In the windowless bathroom, LED daylight panels integrated into the ceiling compensate for the lack of daylight.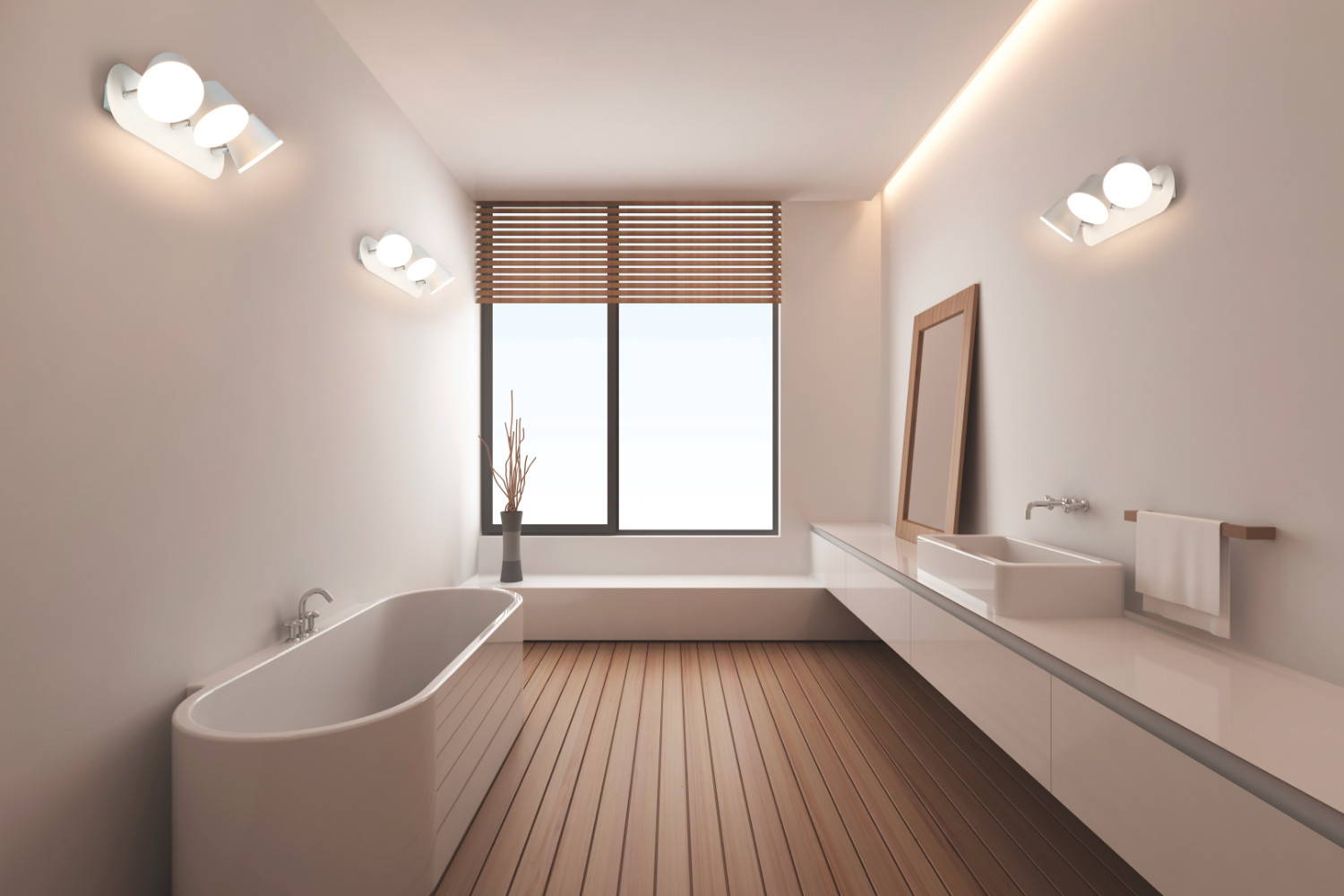 YOUR QUESTIONS QUICKLY ANSWERED
1. What color temperature is suitable for bathroom lighting?
Your bathroom lighting needs to provide both bright light for personal hygiene and warm wellness lighting. 3,500-4,000 Kelvin (neutral white) are ideal for bright light. Warm white to golden light between 2,700 and 3,300 Kelvin ensures relaxation.
2. Is there bathroom lighting without electricity?
You can't do without electricity entirely - unless you use candles. However, if there is no power connection, you can use mobile spotlights for lighting, which are operated with a rechargeable battery.
3. Which IP protection class is required for bathroom lighting?
Due to the high humidity in bathrooms and the risk of water splashes, the options for bathroom lighting used to be rather limited. Today, with LEDs, this is no longer a problem. Pay attention to the right IP protection classes when buying:
IP44 (splashproof) is suitable for general bathroom use.
IP65 (jet proof) can be used around the shower and tub.
IP67 lights are waterproof even with temporary submersion. They are ideally suited for direct lighting in the shower or bath.
TIPS FOR WELLNESS IN THE BATHROOM
PLACE LED BATHROOM LIGHTING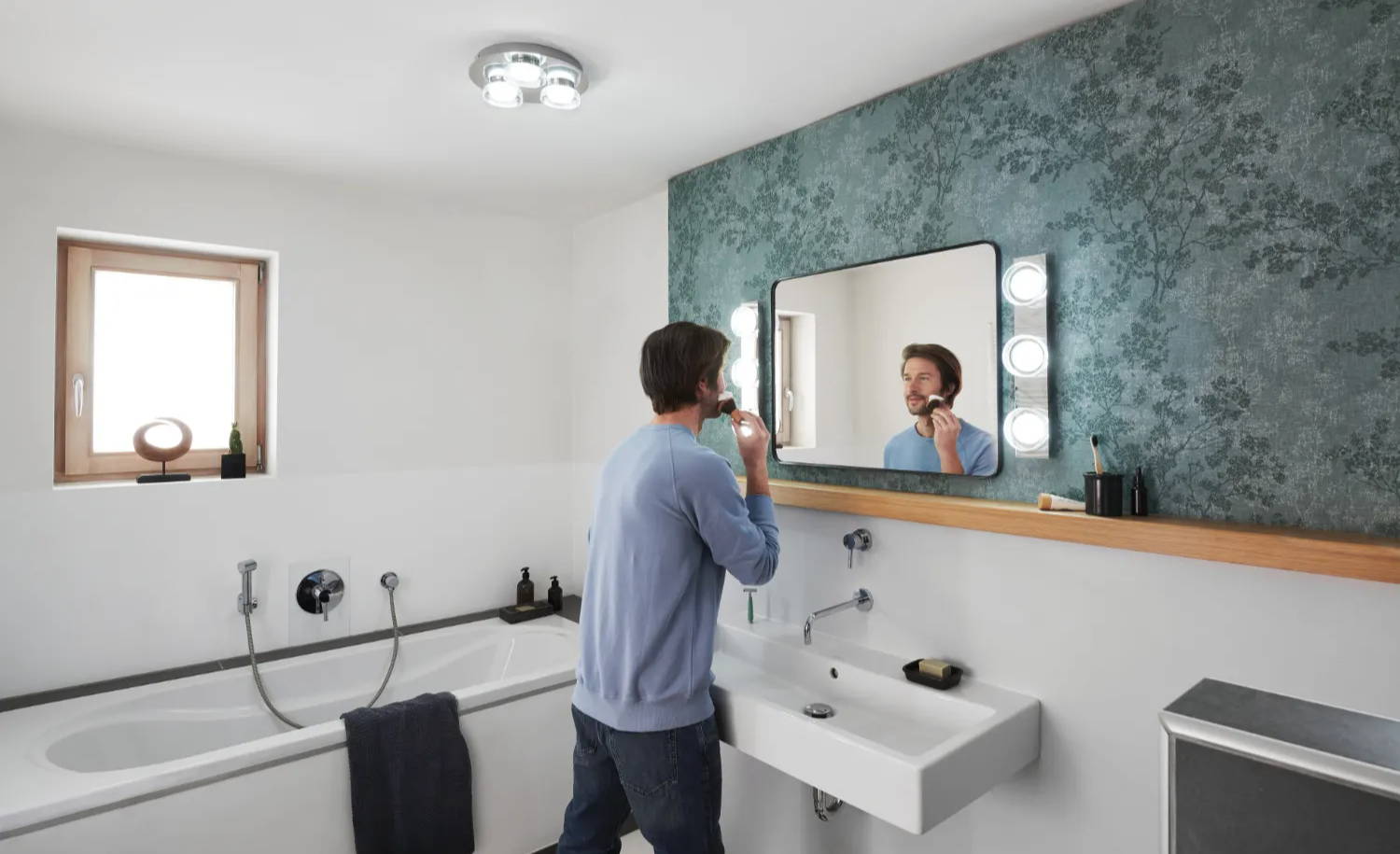 So that you can hide everyday life, you only have to fade in light and colors in a targeted manner, so to speak - a few tips:
- Different colors have different effects on people. Yellow has a mood-enhancing effect, while green calms the nerves and stimulates regeneration. Cool blue helps with restlessness and insomnia and finally red promotes blood circulation and warms. For color therapy at home, you install LED spotlights for the bathroom above the bathtub or LED light strips that you control via an app.
- Tile lighting in the bathroom with LED light strips has a very atmospheric effect: these run e.g. B. at the edge between the tiled and wallpapered part of the bathroom or along the top of the ceiling.
- Other options for indirect lighting are discreetly illuminated room corners or pictures in the bathroom or a light integrated in the ceiling protrusion.
Plan your lighting concept for the bathroom with the versatile LED lamps and illuminate your bathroom optimally at all times! Good morning new technology.